Geneva: New Humanity to Moderate Special Event on Laudato Si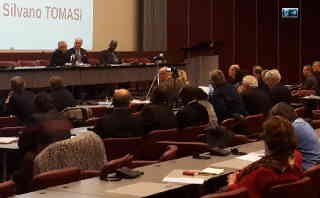 Caring For Our Common Home, The Encyclical Letter "Laudato Si"

International Center of Conferences, Friday, 15 January 2016
The Forum of Catholic-Inspired NGOs (CINGO) and the Permanent Observer Mission of the Holy See in Geneva co-organized an event to present the encyclical, "Laudato Si: Caring for Our Common Home".
Jorge M. Dias Ferreira – the main representative of New Humanity in Geneva – served as General Moderator for this Special Event.
«All the participants – stated Mr Ferreira at the end of the day – put on evidence a unanimous appreciation for the Pope and for his Encyclical Letter and an important aknowledgement for the activities promoted by the Catholic-inspired NGOs».
It has been a very relevant event, organised at the Centre de Conférences Internationales de Genève, with around 400 participants in attendance and among them a large number of Ambassadors, State Representatives and Senior UN Officials in Geneva. Building on the successful outcome of the United Nations Conference on Climate Change (COP 21) held recently in Paris, participants in this event explored potential uses of the encyclical by government officials and other key stakeholders as they devise and implement policies and actions aimed at caring for our common home and those who inhabit it.
However, the President of the Pontifical Council for Justice and Peace, H.E. card. Turkson, underlined that "the Encyclical Letter Laudato Si' has not been generated just as a Document about Climate Changes and Ecology, but mainly as a social Encyclical. It consequently requires for new paradigms and a radical conversion on the way of being and of acting of each human being".
During the event, it intervened also: Mr. M. Møller, Director-General of the United Nations Office at Geneva; Mr. R. Torres, Director of the ILO's Research Department; H.E. Amb. W. L. Swing, IOM's Director-General; il prof. J-P. van Ypersele, professor at the Catholic University of Louvain; Rev. O. Fykse Tveit, Segretary General of the World Council of Churches; Br. M. Hytchen, Advisor at Edmund Rice International; and the Ambassadors of the Permanent Missions of France, Barzil and Mexico to the United Nations in Geneva.
The event has been organised by the CINGO – the Forum of the Catholic-inspired NGOs in Geneva which considers also New Humanity – and by the Permanent Missions to the United Nations in Geneva of Austria, Bosnia-Herzegovina, Brazil, Italy, Nigeria, the Philippines, San Marino, the Holy See and the Sovereign Military Order of Malta.
H.E. Archibishop Silvano M. Tomasi has been called to intervene in various occasions, as Apostolic Nuncio and Permanent Observer at the Permanent Observer Mission of the Holy See to the United Nations. He provided several enlighting sentences and pronounced the final statement.