Geneva: New Humanity at "The Family, Source of Strenght and Security for Today's Social Challenges"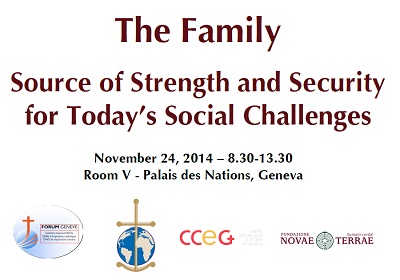 The most important 2014 event which has been organised this year by the Forum of Catholic Inspired NGOs in Geneva (CINGO) took place on 24th November to the Palais des Nations.
Jorge M. Dias Ferreira, the main representative of New Humanity in Geneva, took part to the event. He moderated a Panel about the good acting practices in the field of the event.
The conference has been organised together with the Representation of the Holy See at the UN of Geneva. It anaysed the subject of the family as an answer to the contemporary social challenges and it has been an occasion for celebrating the 20th anniverary of the institution of the International Year of the Family.
As it was reported by Stefano Nobile (Caritas Internationalis), which was among the organisers of this conference, "the event has been a great success, with more than 80 participants including 21 representatives of Permanent Missions at the United Nations in Geneva."
This article will be updated with further information, videos and photos about the event, as soon as possible.