Paris: Two Young Representatives of New Humanity at the 9th UNESCO Youth Forum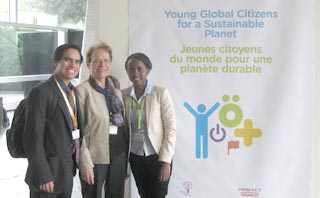 9th UNESCO Youth Forum
Paris, 26-28 October 2015
"Young Global Citizens for a Sustainable Planet" was the title of the 9th UNESCO Youth Forum. This event take place immediately before the 38th session of the General Conference, at UNESCO Headquarters, Paris, from the 26th to the 28th of October 2015.
Nancy Nanjala (Kenya) and Danilo Gomes (Brazil) has been also present at the Forum, representing all the Youth of New Humanity, the Youth for a United World Movement.
In 2013 the presence of some young representatives of New Humanity at the 8th UNESCO Youth Forum was largely appreciated. On this second occasion, the two youth representatives gave again their active contribution into discussing and concretely contributing to recommend actions that will be presented next month during the UNESCO General conference.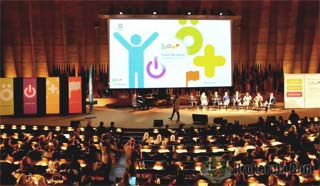 "I felt encouraged to continue being part of change that the young people are doing a for humanity and for the next generations" said Nancy at the end of the event. This young student in political science at the Sophia University Institute had clear ideas about the strategy that young global citizens should follow in order to make a sustainable planet: "any tiny contribution matters to bring about positive change."
Youth for a United World identified this way since many time and just in 2012 in collaboration with New Humanity launched the United World Project. This project is aimed to promote and then to collect a wide number of good practices supporting all over the world the deelopement of a new spirit of fraternity – as it is also described into the firts article of the Universal Declaration of Human Rights.
Nancy found Chiara Luce Badano as a positive model to act in this direction: "she encourages us never to lose hope in this race of loving and only if we can live this life well today we will have a better tomorrow."
The liturgical celebration for her beatification was exactly the day after the UNESCO Youth Forum.