Rome: "Chiara and the Religions", interfaith symposium on the spirituality of Chiara Lubich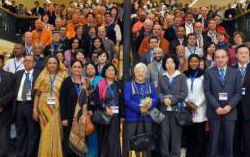 On 20th March 2014 the city of Rome host to the conference "Chiara and the religions: together towards unity in the human family". Remembering her six years on from her death, over 500 participants from 32 nations around the world, representing 8 religions, wished to provide joint testimony of the dialogue opened by the charisma in unity of Chiara Lubich, founder of the Focolari Movement and prominent figure in the present-day reality of interfaith dialogue. The event was preceded  by a three-day seminar which saw the participation of  250 people from 25 countries.
Promoted by the Focolari Movement and New Humanity,  the conference was held with the patronage of the President of the Italian Republic, of UNESCO, of the Italian National Commission for UNESCO, of Roma Capitale, and of  Religion for Peace.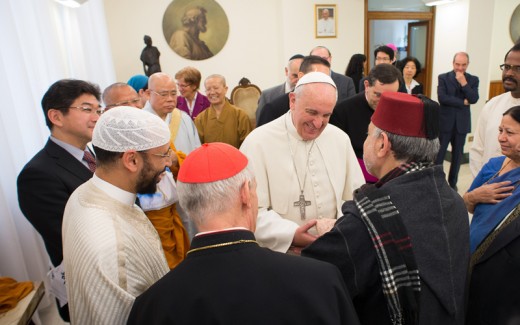 The Focolari Movement has always been engaged in interfaith dialogue, but until this event mutual awareness and reflection had only been undertaken bilaterally. This conference was the first occasion on which a plurality of religious traditions was joined together enhancing, as never before, mutual awareness and  dialogue.
"A choral testimony, a polyphony – as one participant put it – confirmation of a choice and of a common endeavour."
The first stage of the event took place at Castelgandolfo, where Jews, Christians, Muslims, Hindus, Buddhists, Sikhs, Shintoists and members of the Tenrikyo faith, coming from the 5 continents, shared and compared ideas (in groups and in plenary session) on various issues, exchanging experiences on how best to face the challenges which the world of today sets to the religious life and organizations.
A delegation of twenty participants was received by Pope Francesco in a private audience on 19th  March.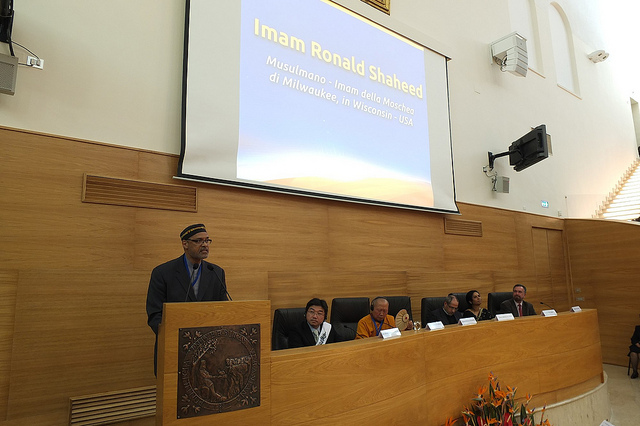 The following day saw the event move to the Aula Magna of the Pontificala Urbaniana University of Rome, where a closing conference was held. The audience of over 500 people heard speeches by the monk Phrama Thongratana and the Rev. Waichiro Izumita, Buddhists;  Dr. Vinu Aram, Hindu, Imam Ronald Shaheed and Prof. Amer Al Hafi, Muslims; Rabbi David Rosen, a Jew;  Card. Francis Arinze and the Focolari President, Maria Voce.