European Mariapolis 2019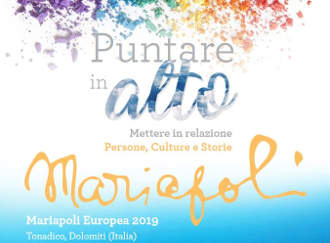 14 July – 11 August 2019, Tonadico, in the Dolomites (Italy)
This summer, the Focolare Movement and New Humanity are connecting people, cultures and stories of the great European family
70 years after the first Mariapolis in the Italian Dolomites, the event is returning to its place of origin for a special 2019 edition…
The Mariapolis, or "city of Mary", is a laboratory of life that the Focolare Movement organizes every year in many places around the world, where people of all ages, cultures, religious beliefs and social backgrounds gather for a few days of leisure, spirituality and reflection. The Mariapolises offer an opportunity to rejuvenate the spirit by refocusing on what's essential, through experiences of dialogue and mutual love.
The first Mariapolis took place in 1949, following an intuition of Chiara Lubich, founder of the Focolare Movement. This 4-week European edition of the Mariapolis will offer the chance to about 600 people per week, from about 50 countries, to live an experience of fraternity and rediscover the beauty of Europe in its diversity.
Title of this edition: "Aim high"
New Humanity sponsors the event, together with the City and Community of Primiero.