A company which is part of the Economy of Communion presented its experience at the UN Civil Society Forum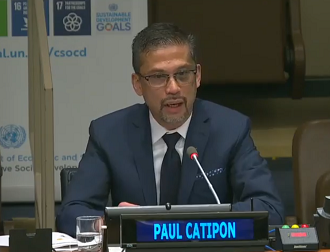 15 February 2019, New York
Civil Society Forum
Paul Catipon, President and CEO of Netpro Communications Inc. presented the experience of his company and of the Economy of Communion, at the International Forum for Social Development at the United Nations.
Watch Paul Catipon's intervention
The Economy of Communion (EoC) involves entrepreneurs, workers, managers, consumers, savers, citizens, scholars, economic operators — all committed, at various levels, to promoting an economic culture and practices based on communion, gratuity and reciprocity, by proposing and living a lifestyle alternative to the dominant one in the capitalist system. It reflects the vision of New Humanity in the economic field.
Netpro, a US-based communications and security systems company, has taken inspiration from the Economy of Communion principles of relationship and reciprocity since it was founded nine years ago.
Winning values. "Based on those values – Paul Catipon said during his speech – during the 2012 recession I hired a few people who couldn't find work (…) That opportunity was the springboard for them to contribute to the development of our company in a surprisingly innovative way."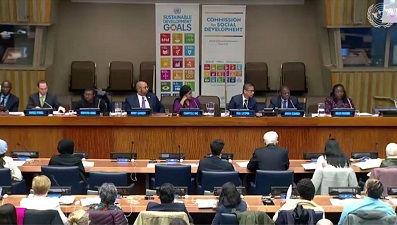 Universal values. Paul Catipon used his professional experience to underline the value of the Economy of Communion proposal from various points of view:
•    The EoC is a real, operating sustainable model.
•    The EoC focuses on engaging those in need bringing out the best in everyone and developing new skills and self-esteem in each member of the company
•    The EoC encourages a new shared culture of giving, seeing the others as brothers and sisters who needs our help, but also can help us
Human values. "This culture of giving upon which the Economy of Communion is based – Paul Catipon concluded – might seem difficult, ambitious, heroic, but it is not so, because human beings… find their fulfillment in loving, in giving."
The Civil Society Forum was planned by the NGO Committee on Social Development, with the purpose to create an inclusive dialogue and foster cooperation between Member States, Civil Society and the United Nations, and to unify behind a common vision in furtherance of the Sustainable Development Goals.
Private sector. The New Humanity intervention was particularly appreciated, as it brought into the debate the contribution of a protagonist from the private sector.
(Photos by http://webtv.un.org)