The HOST SPOT Project of New Humanity Among the Good Practices Promoted by the NGO Committee on Migration (CoM)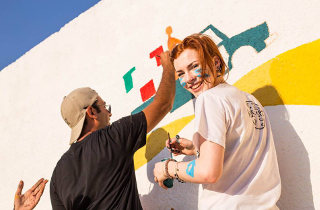 The NGO Committee on Migration has published the report "Concrete Policies, Practices and Partnerships to Promote Implementation of the Global Compacts for Migrants and Refugees". The Host-Spot Project of New Humanity is mentioned among the best policies and practices in support of migrants and refugees in situations of vulnerability.
Eight other New Humanity projects have also been taken into consideration.
40 Good Practices and Policies. "We believe – the Report reads – that the time is ripe to circulate a compendium of good policies and practices that relate directly to Compact goals and that Member States, Civil Society and other actors have already implemented with shared interest, effort and commitment."
The Host-Spot Project is presented as an international initiative funded by the European Commission, promoted in 2016-2017, with the purpose of "spreading a culture of understanding and of promoting respect for human rights". The project engaged "young volunteers from 9 countries volunteering at welcoming centers in Jordan" where they experienced "face-to-face encounters with refugees and what they experienced each day".
Goal 17. The report also highlights how the documentaries on the stories of migrants produced by the young people involved in the project helped spread real-life stories of refugees at a European and international level, thus contributing to "eliminating all forms of discrimination and promoting a public debate based on factual data in portraying the phenomenon of migration", as envisaged in Goal 17 of the Global Compacts for Migrants and Refugees.
Contribution to SDGs. The report also highlights how the Host-Spot Project contributes directly to the achievement of Goal 16 of the Sustainable Development Goals (SDGs), and it is in agreement with paragraph 8 of the New York Declaration on Refugees and Migrants (NYD) and paragraph 84 of the Global Compact on Refugees (GCR).
The other projects presented by New Humanity although not present in the final version of the report are Back to Africa, Together for a new Africa (Africa, 2018-2021), Interfaith Welcome Coalition (San Antonio, USA, 2014 to today), Sewing Peace (Syria, 2012), Creating a system – Beyond the Initial Welcome (Italy, 2016), The Village of Joy (Seoul, South Korea, 2003-2016), Africa's Friends (Freiburg, Switzerland, 2002 to today), Maison Notre Dame (Lebanon, 2005 to today), Social Cooperative "Missione Famiglia (Italy, 2018).