Educating towards fraternity: a collective challenge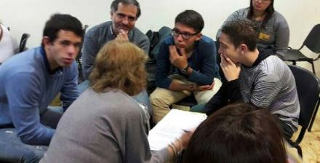 12 – 14 June, Rosario, Argentina
First International Congress of Educators from the Southern Cone
408 participants from Chile, Uruguay, Paraguay, Argentina and Colombia, in the 1st International Congress for Educators of the Southern Cone, held in Rosario (Argentina). Main theme was fraternity as a style for education within the wealth of shared educational practices.
Besides the participants, about 500 educators took part at the live streaming during moments dedicated to the various topics of the meeting: "Learning service," "Education for a fraternal economy," "Inter -generational dialogue", and "Empathy and Intercultural Workshop" to name just a few. Present also Marie-Annick and Pierre Benoit, representatives of New Humanity at the UNESCO.
A few personalities came to visit the congress: The first day started with the visit of the Governor of Santa Fe, Miguel Lifschitz, and authorities of other local institutions. The Archbishop of Rosario, Bishop Martin, gave a speech the second day.
What came to light was not only the life of fraternity between the students and their teachers but also between directors and inspectors, proposing innovative institutional policies for the benefit of the entire educational community. The art-oriented schools that adhered to the project of fraternity gave their testimonials on how inter-culturation is lived through art, demonstrating new ways of being artists. The workshop on inclusion helped to clarify the concept of how "the other, with all his or her differences is a gift."
The theme on education and formation outside the school environment, which is a life-learning process focusing on brotherhood as its methodology, indicated a pathway which consists in going out towards the peripheries with a program centered on values. Many educational practices that achieved excellent results were presented, regarding the potential of body language and the Decalogue of the golden rule in the field of sports as a way of building bridges in such important environments.