2022 ICNGOs, facing the challenge of "Breaking the barriers"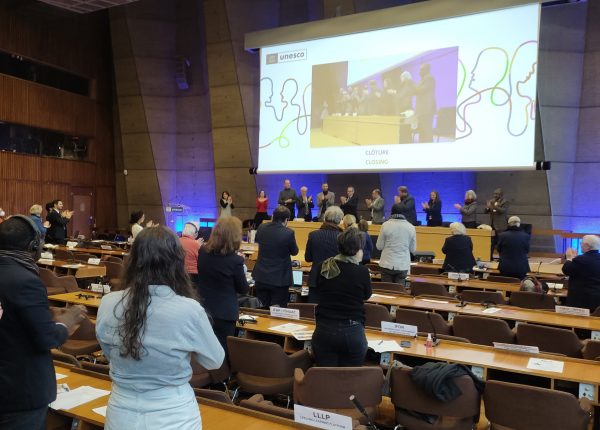 On the theme: "Breaking the barriers: what role for civil society organizations towards a sustainable future", the 400+ NGOs partners of UNESCO, gathered in presence at UNESCO headquarters and online, from December 14 to 16 – 2022, to exchange experiences and recommendations during the 2022 International Conference of NGOs (ICNGOs). Roundtables, networking through an Open Space for NGOs, the election process of the NGO-UNESCO Liaison Committee 2023-2025 and discussion moments for projects and the collective work of NGOs for the next 2 years, where the key moments of the 2022 ICNGOs.
New Humanity took the floor sharing some recommendations and the project of a group of 7 NGOs from different religions to prepare a round table for 2023 with the aim of highlighting the essential place of religions and spiritual traditions for the development of a culture of peace and non-violence. It is an ongoing process and will be the task of this group and the NGO+UNESCO LC to provide further inputs and guidelines for proceeding.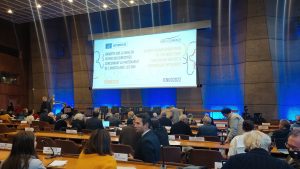 Through a very tight but vast schedule, a diverse of documents were presented as result of surveys and initiatives carried out during the 2020-2022 NGO-UNESCO Liaison Committee mandate, ongoing works that the NGOs where invited to continue supporting.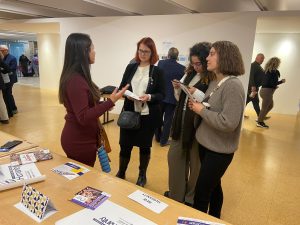 Other than the thematic sessions on the opportunities and challenges for NGOs to achieve the SDGs, transformation of education, and working with National Commissions, it is important to highlight the presentation of the Position Paper on Youth and Advocacy Guidelines, because it sparked discussion about how to consider intergenerationality at large within the NGOs themselves and the important role young people play for achieving meaningful change and process in educational, scientific, social and cultural avenues.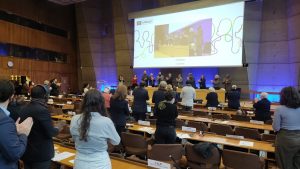 By the end of the conference the recommendations for the 2023-2025 where discussed and the newly-elected Chairperson and members of the NGO-UNESCO Liaison Committee where presented. New Humanity openly commits to continue supporting their work, thanking the work carried out by the mandate that is leaving, and congratulating the one entering.
New Humanity Paris Delegation