Africa at the center of New Humanity participation to the Forum of the NGOs partners of UNESCO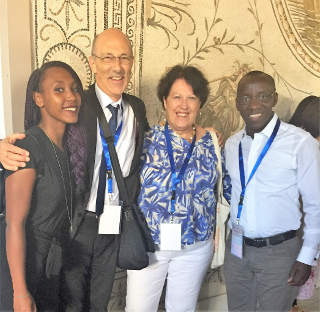 26-27 September 2018, Tunis
9th Forum of the NGOs partners of UNESCO
Four members of New Humanity NGO took part in the 9th Forum of the NGOs partners of UNESCO in Tunisia, last 26-27th September. About 200 people gathered on "A different look at human migrations".
The four representatives of New Humanity, besides being fully involved in the works, also created various bonds with other NGOs: interesting opportunity for future cooperation with them.
Melchior Nsavyimana's testimony on the « Back to Africa» Project raised great interest and positive reactions among the audience.
Marie-Annick and Pierre Benoit, are still involved in the post-forum pilot project. Africa is indeed the overall priority for UNESCO policies, and the Forum follow-up might include "Back to Africa" – along with other projects aiming at the future of that continent.
The event also gave Maria Chiara Humura the chance to successfully complete her 3 months training session at the Paris Delegation of New Humanity.

Sept. 28 was dedicated to the Day of Peace and Sept 29 to the 70th Anniversary of the signing of the Universal Declaration of Human Rights (Dec. 10th, 1948).
The Arab Institute for Human Rights in Tunisia welcomed these events, thanks to its president, Dr Abdelbasset Ben Hassen.