African youth contribute to the future of their continent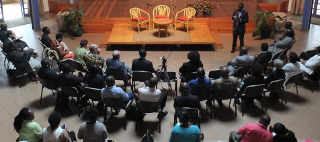 3-7 January 2018, Nairobi (Kenya)
First Seminar of the project "Come Back to Africa"
The first seminar of the New Humanity project "Back to Africa" was coordinated by a group of students and young graduates, with the support of experts from the Movement Politics & Policies for Unity and the Sophia University Institute for higher education. The goal of the seminar was to develop a program and the education strategies of the entire project, going forward.
About thirty students and experts from various African countries participated to the seminar, which took place at the Center for Education 'Mariapolis Piero' near Nairobi, from January 3rd to 7th.
The meeting was an excellent opportunity for exchange and mutual enrichment. The workgroup also did the preparatory work for the upcoming series of annual summer schools for 100 youth from East Africa (age 20 to 35), active in their civil society environment.  The schools intends to prepare those young people to become leaders and promoters of actions, laboratories, and initiatives in their own country, and engage possibly several hundreds more young people.
The main goal? Prepare the young African leaders of the future!