Connecting with Others – Practising the Art of Dialogue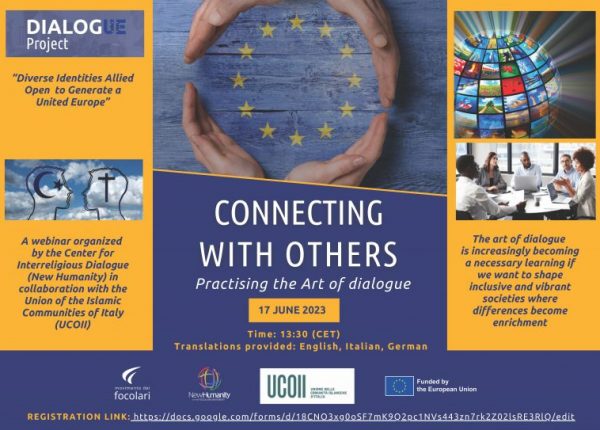 On June 17, 2023 New Humanity , in collaboration with UCOII (Union of Islamic Communities of Italy), organized an online workshop, part of the "DialogUE Project,"  focused on addressing media disinformation, fake news, polarization, and Islamophobia. Communication experts from both Catholic and Muslim backgrounds engaged in in-depth discussions. Catholics and Muslims who are already involved in interreligious dialogue shared their personal and collective experiences.
Titled "Connecting with Others," the workshop garnered 365 registrations from 21 European and 31 non-European countries, offering language options in English, Italian, German, and French.
The workshop content featured three main speakers, experts in the discussed themes, followed by six individuals who shared their Christian-Muslim interfaith experiences.
Luciano di Mele, an Italian communication scholar, was the first speaker, highlighting the manipulation of communication through disinformation and fake news. He emphasized the role of media education in countering misinformation.
Ramazan Özgü, a Swiss Muslim professor, stressed the importance of involving minority voices in major discussions, emphasizing dialogue as a platform for public discourse. Structural barriers hindering Muslim participation were addressed.
The significance of interreligious dialogue between Catholics and Muslims in breaking stereotypes and fostering inclusivity and strong democracy was underscored. The Focolare Movement's dialogical approach was praised for improving relations and integrating Muslim refugees in Europe.
Ramazan supported the Swiss initiative "We Are Also Here," empowering Muslim youth in media engagement and political involvement. The value of alliances between minority groups was emphasized, along with initiatives against online hate.
The European Union's Digital Services Act (DSA) was lauded as a step towards a fairer digital landscape, promoting transparency and countering hate speech. The importance of regulating digital platforms to ensure equitable representation and combat misinformation was highlighted.
The essence of democratic societies lies in dialogue, transcending boundaries and understanding diverse perspectives. Interfaith dialogue was hailed as a valuable platform for sharing ideas, fostering mutual understanding, and cooperation among religious groups.
The third speaker, Michele Zanzucchi, addressed Islamophobia in Europe, highlighting the complex relationship between Europe and the Islamic world. He suggested mutual understanding and using religion to resolve conflicts as antidotes.
Various speakers shared initiatives promoting interfaith understanding, such as breakfast gatherings and cultural events. They stressed education, mutual respect, and acknowledging shared values to promote unity.
Participants identified two principles: reciprocity and dialogue, and fraternity. They proposed actions like fostering interaction, educating youth about human rights and dialogue, promoting good practices, and disseminating government initiatives supporting minorities.
Click HERE for a full description of the workshop