Geneva: Human Rights and Social Doctrine at the United Nations Palace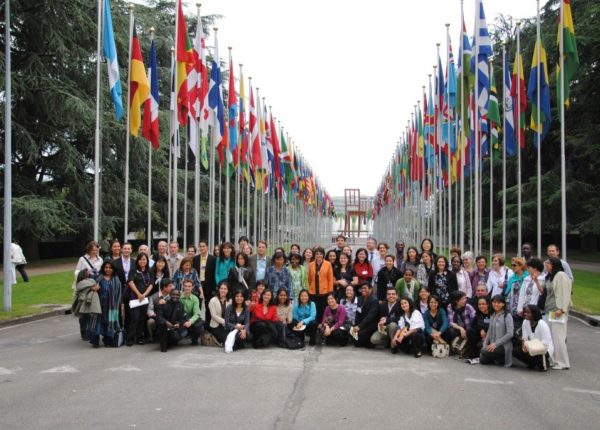 Organised by New Humanity and developed in collaboration with the Forum of Geneva Catholic inspired NGOs in Geneva, seminar "The role of International Organizations before the Human Rights Council", at the Meeting Room IX of the genevan UN Nation Palace, represent an important step in the study of the Social Doctrine of the Church.
Aim of this symposium was, to offer to participants – professors and students coming from the Focolare Formation Centre of Montet (Switzerland) – a wide perspective on the nature and role of Non-governmental Organizations (NGOs) in relation to Human Rights and International Organisations.
Introduced by Dr. Franco Pizzorno – the president of New Humanity – that describes its motivations, seminar opened with an intervention of Mons. Silvano Tomasi, permanent observer of the Holy See at the United Nations in Geneva who presented a wide and well-documented account on the constant commitment of the Catholic Church for the defence of all fundamental human rights.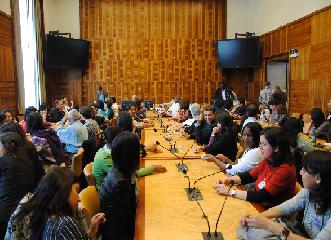 Dr. Ricardo Espinosa, responsible of the coordination of all the NGOs accredited at the UN, underlined the importance of the contribution in terms of critical conscience, that civil society organizations can give in the relationship with local, National and International institutions remaining with a plain independence of opinion and of action as to governments and Dr. Shyami Pumanasinghe, as UN official, illustrate the work done in order to finalize the Declaration on the Right to Development and Solidarity.
Event's coordinator was Dr. Jorge Ferreira, representative of New Humanity in Geneva and main seminar's artificer. While a big contribution in the preparation came from two NGOs OIDEL (International Organization for the Right to Education and Freedom of Education) and BICE (International Catholic Child Bureau).
Therefore, just the director of OIDEL, Dr. Alfred Fernandez, summarized the three main features of the NGOs (professionalism and clearness;  knowledge about International Policy; trust relations building) while the Deputy of the Secretary General Dr. Alessandra Aula, offered his experience about the action of BICE for the defence of children rights.
How reacted the young public? Everybody was concerned, attentive and interactive and appreciated this occasion to visit the UN Palace and to discover how is important the contribution, in terms of values and experiences, that the Civil Society is able, thanks' to NGOs, to bring in order to amplify the international discussion about the human society.