Geneva: N-H and others NGOs met about "International Solidarit and Human Rights"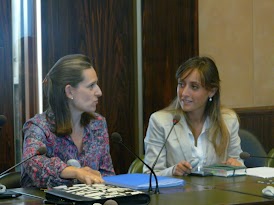 To coincide with the twenty-first regular session of the United Nations Human Rights Council, on 14th September last, in Conference Room IX of the Palais des Nations, the side event "International Solidarity and Human Rights: Meeting between the Independent Expert and Civil Society" took place.
The meeting was organized by New Humanity, Associazione Comunità Papa Giovanni XXIII, Caritas Internationalis, Dominicans for Justice and Peace (Order of Preachers) and OIDEL, (all of which are NGOs enjoying Consultative Status with ECOSOC) and co-sponsored by the Forum of Geneva Catholic inspired NGOs, Good Neighbors International and North-South XXI.
The main aim of the conference was to allow the Independent Expert for International Solidarity and Human Rights, Mrs. Virginia Dandan, to consult with some of the main NGOs operating in this field, and thereby to field suggestions for the preparation of a United Nations Draft Declaration on the right of peoples and individuals to international solidarity, whose purpose it is to contribute to the establishment of solidarity as a guiding criterion in international relations.
New Humanity's contribution to the discussion was significant, and among others, Dr. Jorge Ferreira – Main representative of New Humanity in Geneva and chairman of the meeting – and a group of young students were present.
In his introduction, Msgr. Silvano Tommasi – Permanent Observer of the Holy See to the United Nations in Geneva – highlighted the Church's project of Social Doctrine as it regards solidarity and the current challenges which the Church must face, and appealed for unity in the human family.
Dr. Dandan then called on the representatives of the various NGOs present to share their ideas and make their contributions, which she listened to and received with interest, and which will be taken into serious consideration on the drafting of the Declaration, scheduled for June 2013.
Speaking on behalf of our NGO, Dr. Ester Salamanca – lecturer in International Law at the University of Valladolid and member of New Humanity- cited some of the proposals already put forward in previous documents, stressing particularly that the right to international solidarity is based on the principle of fraternity as defined in article 1 of the Universal Declaration of Human Rights. New- Humanity proposes that this Declaration be the basis for all provisions of human rights law, in particular as regards extraterritorial application of human rights treaties.
As emphasised by Dr. Salamanca at the end of the meeting, the relationship between the various participants in the dialogue with Mrs. Dandan was very cordial, and this made the discussion with her and amongst all present very positive.