Geneva: New Humanity delivers its inputs to the Independent Expert on Human Rights and International Solidarity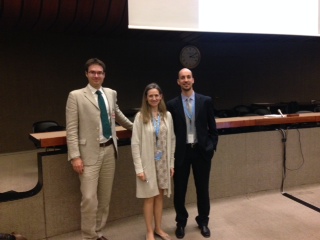 Ms Virginia Dandan – the Independent Expert on Human Rights and International Solidarity – invited the Civil Society Organisations to deliver their inputs on a Draft Declaration about this theme. The event has been held on the 16th of June, at the Room XXIII of the Palais des Nations in Geneva. New Humanity presented its inputs through the two interventions of Mrs Maria Esther Salamanca Aguado and Mr Davide Bilardi.
Download the Intervention of Mrs Salamanca
 Download the Intervention of Mr Bilardi
 International Solidarity and Extraterritorial Human Rights Obligations was the title of prof. Salamanca intervention. She is an Additional Representative of New Humanity in Geneva and Professor of International Law at the University of Valladolid and during her intervention she explored the Foundation, the Core elements and the Function of the Principle of International Solidarity and she also deeply analysed the extraterritorial application of human rights obbligations (obbligations to respect, to protect and to fulfil).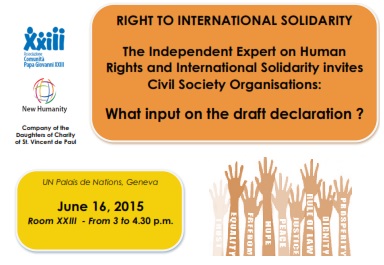 Finally, Mrs Salamanca concluded her statement with two important remarks: it is impossible to achieve universal respect for human rights without addressing universal obligations, including the extraterritorial perspective and there is and emerging consensus related to the different formulations for instruments of human rights' scope of application, and about their interpretation by the different treaty bodies or tribunals.
Antoher important contribution of New Humanity to the debate came from the  Intervention of Mr Davide Bilardi, Additional Representative of this NGO in Geneva and professor on International Relations at the Sophia University Institute. He underlined how the new basis of International Relations is indeed not power or self-defence but the "taking care" among them.
As he indeed underlined at the end of his intervention, a declaration on International Solidarity, even in the absence of legal binding elements, making it a soft law instrument, could be a fundamental contribution to this goal and to the International Relations debate.