Genfest Project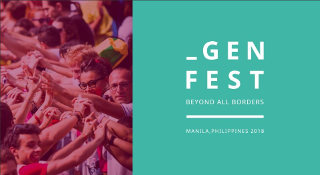 GENFEST 2018 "Beyond all Borders"

6-7-8 July 2018, Manila (Philippines)
The Genfest 2018 is a meeting of thousands of youth from all over the world, from different ethnicities, cultures, and religions, driven by the idea that the construction of a more united world is already an experience of life and social action.
The Genfest 2018 is an occasion for exchanging ideas on economy, art, environment, social realities and intercultural dialogue. It is an invitation to build bridges of fraternity and contribute to breaking barriers of indifference, prejudice, egoism.
Born in 1973 as the brainchild of Chiara Lubich, foundress of the Focolare Movement, the will reach its 11th edition
on july 6-8 2018 in Manila (the Philippines).
"BEYOND ALL BORDERS". It wants to highlight some boundaries to be even a more united and sympathetic world, which the young people the boundaries of egoism, prejudices, fear of the future, superficiality indifference, consumerism, wars, disinformation, and inequalities.
This "going beyond" borders means inspiring young people, real actors of change, to open their minds and hearts to the great global challenges that they are called to face together, both locally and internationally. That's why the program wants to help overcome walls and barriers:
• Highlighting the importance of individual work on "oneself", empowered by sharing their limits and aspirations with others;
• Offering best practices, tools and projects in which groups and communities cooperate to provide young people with real perspectives of engagement for an incisive and sustainable
Promoting Organisation

New Humanity International NGO
Youth for a United World
More information

Power Point Presentation Genfest 2018