Host-Spot Presentation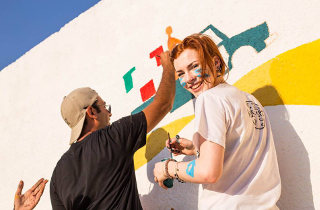 Freedom of expression, the free flow of information, and freedom and pluralism of the media have internationally been acknowledged as human rights. However, after the Arab Spring, in the MENA region, this fundamental human right has been frequently restricted. In addition, EU leaders are facing a European refugee crisis, where, first of all the citizens of the European Union must have a deep awareness of the real struggling refugees face, both prior and after the 'landing' to the EU soil and both in their countries and during their displacement.
This background has inspired the consortium to design a project that might include the promotion of human rights through the production of social oriented documentaries, aiming at telling the stories of the migrants lives.
Goals:
Therefore the main goals of the project are:
– to contribute to develop useful skills for youth workers, networking among young people who come from different backgrounds but who are daily engaged in the human rights promotion and social inclusion of migrants, and who can improve their competences taking the best from one another.
– to empower youth, providing the younger generations with competitiveness and know-how in social-oriented documentary production field, fostering youth entrepreneurship attitudes in the digital world.
– to document and record migrants personal stories and daily refugees camps life. The purpose of this latter is to widen the options public opinion envisions for dealing with immigrants and refugees by making a broader interpretation of why these people in motion exist in the first place.
Project Activities:
The main activities will be the Youth Exchange in Jordan (50 participants), in which youth will experience in an extraordinary way the preciosity of reciprocity aiming at offering a set of ideas, of cultural contributions, but also existential and constructive experiences, thanks to the visit to the Jordanian refugees camps. Another activity will take place in Germany (20 participants), with the goal of empowering the participants not only as professionals but as world citizens as well, providing them with crucial skills in the field of project management and ideas development, keeping encountering refugees lives in the German refugees camps.
Outputs and Perspectives:

The international level of this training experience will offer the participants innovative elements, improving also the language skills, since the learning experience will be in English and inviting them to serve as multipliers. The participants will receive a well-rounded training on their freedom of expression, publication and communication, basis of the European Union democratic society, bringing issues such as the filmmaker's confidence, personal agency, and stance toward the world. For this reason, once the project comes to an end, the participants, as experts, will independently and both individually and as a group keep working in the social oriented movies production. The project will boost the promotion and the understanding of those principles, particularly in the field of freedom of expression, encouraging the development of youth exchanges and the participation of young people in democratic life in Europe, through the production of social oriented movies.
Project Partners:
Host Spot is implemented by 10 different NGOs and/or organizations from 9 countries (DE, IT, IR, SP, HU, Egypt, Turkey, Jordan, Palestine), as follows:
Germany- STARKMACHER EV
Jourdan- Caritas Jordan
Italy – Associazione bNET
Italy – New Humanity Inernational NGO
Egypt – Jesuit Cultural Center in Alexandria
Palestine – Vision Association for Culture and Arts
Spain – FUNDACIÓN IGINO GIORDANI
Hungary – Új Város Alapítvány
Ireland – Focolare Trust
More Information
Co-financed by: