In Geneva, New Humanity reflects on the Right to Life as a Way to Celebrate the 70th Anniversary of the Declaration of Human Rights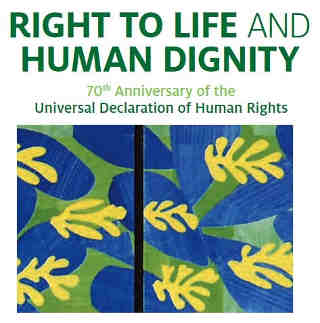 3 December 2018, Palace of Nations, Geneva
70th Anniversary of the Declaration of Human Rights: The Dignity of Life
The Permanent Missions of the Holy See and the Order of Malta to the United Nations, together with other Catholic-inspired NGOs present in Geneva, organized a seminar to celebrate the 70th anniversary of the Declaration of Human Rights, and reflect on the topic of Dignity of Life.
For the occasion, a booklet entitled "The Right to Life and Human Dignity" was created with the contribution of New Humanity and distributed among the participants.
New Humanity contributed to the booklet through the articles by Dr. Jorge M. Dias Ferreira, main representative of New Humanity in Geneva e by Prof. Vincenzo Buonomo, rector of the Pontifical Lateran University.
The article by Dr. Ferreira focuses on the anthropological and theological foundations in the Human Rights Charter which highlight the dignity of the human being and the reasons why the Church is deeply committed to the full realization of these human rights.
The article by Prof. Buonomo on the other hand, offers a reflection from the point of view of Catholic Social Doctrine and calls for an integral development of the human person, based on full respect for his dignity and based on his fundamental rights and freedom.
Commitment and collaboration. Both articles underline how the defense of human dignity in its entirety is a crucial task for the contemporary international community and requires the joint intervention of all its actors.
The conference – divided into two sessions dedicated respectively to "Universality of the Declaration of Human Rights and its challenges" and to the "Right to Life" – saw the participation of numerous representatives of national delegations, UN agencies and NGOs present in Geneva.
Among the speakers: Msgr. Ivan Jurkovič, Permanent Observer of the Holy See to the United Nations Office; His Excellency Dr. Martin Ihoeghian Uhomoibhi, President of the Pan African Institute for Global Affairs and Strategy; Her Excellency Dr. Thérèse Pictet-Althann, Ambassador of the Order of Malta to the UN; His Excellency Dr. Zbigniew Czech, Ambassador of the Republic of Poland at the UN; Msgr. Vincenzo Paglia, President of the Pontifical Academy for Life.