International Projects – NEST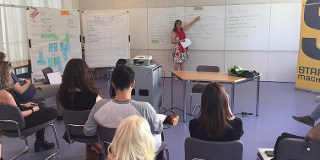 NEST – Networking Europe through Skills Transfer
Key-Words: Education, Solidarity, Project Manajement, Social and Political engagement
Leading Partner: Associazione la Pira Onlus (IT)
Goal of the project:
a) To improve, stimulate and implement the growth of professional skills of the staff, to strengthen the development of innovative processes and the external impact of one's organization with the goal of transferring approaches and methodologies to different social actors which operate on the same territory on which the organization operates, in order to let the external impact then become more and more tangible and concrete
b) To develop innovative and creative practices, to use new digital and informatic tools in order to facilitate and increase sharing of experiences and best practices.
Project Presentation
Project Summary

In order to have a clear picture of the current human context of our planet it is necessary to underline principally two aspects:
a) The very high mobility of services, information, financial assets which occur simultaneously (in real-time), with a consequent zeroing of both the time and space factors and with the substantial decrease in the possibility of individuals to influence global processes;
b) The high mobility of people which involves all continents. According to the Annual Report of the United Nations High Commissioner for Refugees (UNHCR), there are in the world at least 19.5 million refugees, 38.2 million internally displaced within their own countries; 1.8 million persons pending the outcome of asylum applications.
More and more today we are living in an historical moment for which interdependence is not only relevant for politologists and economists , but it is a real planetary condition and in fact involves every person on earth.
Project Partners

Associazione Internarnazionale New Humanity
Amu Italia (IT)
Amu Portogallo (PT)
Amu Lussemburgo (LU)
Starkmacher (DE)
Uj Varos Alapitvany (HU)
Pontes (CZ)
Fundacion Igino Giordani (ES)
More Information

Financed by: