Italy: Simple ideas as the "Friendship mail" are enought in order to give a new sense to the cohesistence in a classroom
An original and simple idea from an assistant teacher helps to melt tensions in classrooms of small children. The teacher recounts:
"I work in an elementary school as an assistant teacher. There is a boy in my classroom who wears a hearing aid. For the sake of privacy I'll call him F".
"He has problems getting along with his classmates who are then disrespectful towards him and excluding him from their games. There is a general atmosphere of rivalry among the children who compete in underscoring the errors and defects of those who seem to be weak. So I decided to engage them in an activity that would be gratifying to them and would help them to see the good in one another; and hoping that they would also see the good in F.
This is how the Friendship Post began: One morning a colourful mailbox with slots appeared on the teacher's desk. A cartoon image of GB&W was pasted on top. The pair of smiling cartoon characters were saying: "I have a surprise for you!" I suggested to the children that we could use this box to say good things to each other during the week, good things we had noticed in one another during the day. The messages could be signed or anonymous and addressed to anyone. We could send drawings, poems or small gifts. We teachers also wanted to participate, writing mostly to the children we thought would not receive a message. These messages would then be read every Friday afternoon. The children enthusiastically agreed to the suggestion and began writing messages, letters, poems and drawings.
At the end of the first week the entire classroom was overflowing with enthusiasm. Opening the mail was a moment of true sharing in which everyone finally focused on the positive rather than the negative. Every child received a letter and promised to respond to the sender.
We teachers had kept watch for those who hadn't received a message when the box was opened. We would write short thoughts for some, and for others we would send a small cartoon image of GB&W. The recipients of the comic strips asked about the comic strip characters and I offered some explanations. A deep and beautiful dialogue was begun. From then on receiving a comic strip was seen as a privilege, something special that was cherished.
During the weeks that followed the atmosphere in the classroom had changed noticeably: the children were more polite to one another, a bit because they wanted to receive a letter, a bit because of the positive bonds that had begun to be formed among them because of the positive compliments they had received from their peers.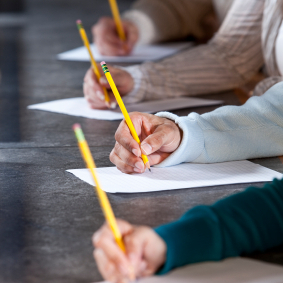 However, it was more of a struggle for F. to benefit from the Friendship Post. He refused to write messages to his classmates, saying that he would surely receive none from anyone else, except teachers. This went on for two weeks. During the third week, however, one girl wrote a message to F. saying that he was her friend because he lent things to her. F. broke into tears and angrily ripped up the note. But the next week he asked me to help him write several letters and, in the following weeks, he began to receive messages that were filled with compliments that filled him with surprise.
Then he decided to write everyone a friendly message. For him, who was always so selective in his relationships, it was a very big step that was filled with emotion. The "friendship mail" continued until the end of the school year, becoming an integral part of the scholastic programme as a vehicle of friendship and reciprocity for everyone."
M. T. – Italy
Fount: focolare.org