International Projects – Learning Fraternity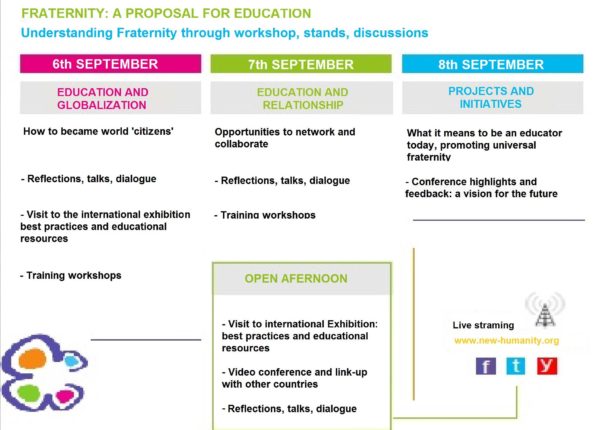 "Education and Globalization" and "Education and Relation" will be the two themes which will be addressed, not only with theoretical contributions but also with good pratices and applied methodologies, shared in the common sessions and presented in greater detail in a variety of stands and workshops.
The focus will be directed above all on ideas and models in some way reproducible and thus useful to participants in their educational activities.
The event is aimed at to all those who are protagonists in education at whatever level: the family, the whole sector, schools, catechists, group leaders, academics of the sector, the youngsters themselves, from countries of Asia, Africa, America and Europe.
Promotors of the scheme: New Humanity (International NGO), Educazione e Unità, AMU NGO, the Umanità Nuova Movement and the Association Teens4Unity.
Recently, the conference has obtained the patronage of the Italian National Commission for UNESCO "in view of the considerable value of the initiative" and also for its strong affinities with the activities of educational, cultural and scientific promotion which this institution carries out in Italy and internationally.