Let's Bridge – Portugal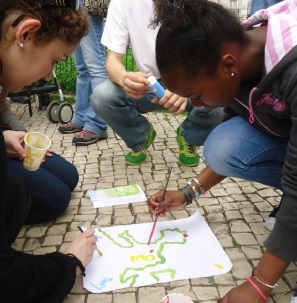 Yes to Europe, to Joy, to Hope and to the City
As part of the Let's Bridge Project, the "Movimento Juventude Nova" involved around 300 youngsters in a series of activities all over Portugal, on the issues of  European citizenship,  fraternity and intercultural dialogue.
In particular, the "Yes to Europe" initiative of 12th  May 2012, saw around 150 young participants keenly encouraging the citizens of Lisbon to be players in a Europe which is more alive, more united and expresses greater solidarity.
From 5th  to 12 May 2012, ten youngsters from Fatima and Lisbon put on the theatrical show "Yes to Joy and Hope". Almost 3,000 spectators were present for the final performance.
Lastly, on 29th  and 30th  September, Abrigada hosted "Me, Us, the City" an event to foster in a group of a hundred or so adolescents a new sensitivity about living one's own city in a  responsible way.
 Summary of "Movimento Juventude Nova"'s initiatives (Italian)