Project 'Living Peace': The course for Educators to Peace is here!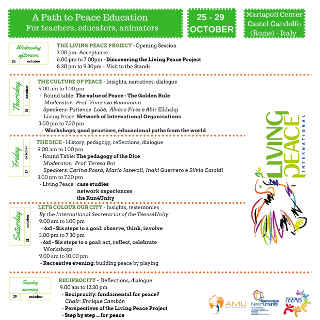 25 – 29 October 2017, Castel Gandolfo (Rome)
A Path to Peace Education: Training Course for Animators, Teachers and Educators
In the framework of the Living Peace International Project, New Humanity and other New Humanity and other related organizations will focus on themes such as the Culture to Peace and Reciprocity and will explore some concrete initiatives, such as the "Dice for Peace" and the project "Let's Colour the City".
The training course lasts 32 hours and a certificate of participation will be issued. (D.M.170/2016).
The course will be held at the Mariapoli Center – Castel Gandolfo (Rome) – Via San. G. Battista de la Salle