New Humanity and FAO Publish the Activity Book With Good Practices of Teens of the "Zero Hunger Generation"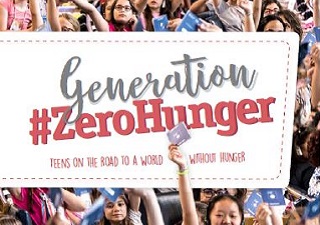 Activity Book "Generation #ZeroHunger, Teens on the Road to a World without Hunger"
Discover the stories of Robert, Cecilia, Mike, Priya… and of many other teens from every corner of the earth who dream and fighting for a world #ZeroHunger.
«This book tells us that the way kids look at hunger and think of it is not way adults do. They see economic goods from a perspective of relationships much more than we do. They are more sensitive to inequality, they give little importance to money, they are generous».
(from Luigino Bruni's preface)
Collaboration between FAO and New Humanity. This activity book published by New Humanity in collaboration with the Food and Agriculture Organization of the United Nations (FAO) starts from the observation that the world needs us, our ideas, our promises, our actions.
Common Goal. The book highlights the actions of so many great young people who are committed globally to this common goal: transforming the world into a more just place, without people suffering from hunger and poverty.
International Display. The text you find there has a mainly educational and formative purpose. Through the format of an International Meeting, many children from all 5 continents share true stories, personal and concrete experiences that show their choices and actions, the good habits they carry out in their daily lives and the promise of a firm commitment for the future.
Like a rainbow, made up of different colors, reaches the same endpoint, the book identifies 8 paths to follow in order to reach a #ZeroHunger world.
4 Pathways. This first volume presents 4 pathways in depth; each one deals with an issue linked to hunger and highlights some aspects where every human being could improve.
The book can be read alone or in a group and is suitable for moments of reflection and sharing either at school or in the family or with groups of friends. Each chapter contains an activity or a game with the purpose of stimulating reflection.
Enjoy the reading!