New Humanity Attends the NGOs-States Dialogue towards a Better Mutual Cooperation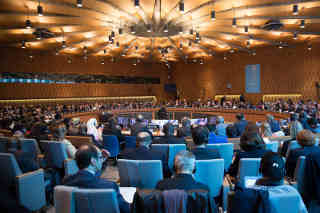 NGO-UNESCO Liaison Committee

On Friday October 6th 2017, the Committee on the UNESCO Executive Council's PNGs held a meeting in which the three representatives of the NGO New Humanity in Paris were present.
The NGOs were invited to discuss with the States belonging to this Committee about how to improve cooperation and dialogue between the NGOs and the State Members based on a report that draws up a mapping of this cooperation in the various UNO organizations.
The possibility of a future participation of a few NGOs in the Executive Council will be put on the agenda of the Executive Council by 2018.