New Humanity Offers a Contribution to the Formation of Teachers in Valle d'Aosta Region (Italy) on the Human Right Issue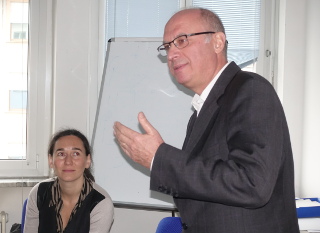 Aosta, 22-23 November 2018
Jorge M Dias Ferreira, main Representative of New Humanity in Geneva, held a formative session dedicated to the Universal Declaration of Human Rights and to its main anthropological and pedagogical aspects. The presentation was part of the seminar on Human Rights, organized by the Henry Dunant University College (CUHD) in Geneva, for teachers in the Valle d'Aosta Region.
During his speech that was part of the morning program on November 23, Dr. Ferreira focused on the key points of the declaration, adding his personal experience as a trainer and expert on child psychology.
The other experts who intervened offered contributions that were complementary to the session held by Dr. Ferreira.
Prof. Michel Veuthey, President of the Henry Dunant University College in Geneva, outlined the history and evolution of human rights over the years, the values of the Chart of fundamental rights in the history of Europe, as well as some practical cases of Human Right issues.
Prof. Stefania Gandolfi, UNESCO chairholders on Human Rights and Ethics of international cooperation at the University of Bergamo, reflected on the systemic approach to human rights.
Lastly, Marcella Ferri, professor of International Human Rights Law at the University of Bergamo, presented the international system of human rights.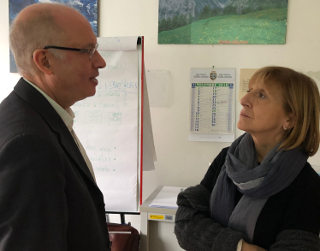 Workshops. The program included also practical workshops, focused on ways and tools useful for the teaching human rights
Special Invitation. Dr. Ferreira had been invited to the seminar by Alfred Fernandez, former president of the Henry Dunant University College, who passed away recently.
Contacts with regional representatives. The seminar also offered our representative in Geneva the opportunity to meet several representatives of Valle d'Aosta, Italy, region. Both the representatives from the region and the teachers who were present expressed their appreciation for the contribution offered by New Humanity. There was a common desire to continue the collaboration in the future, for the purpose of protection of Human Rights in their territory.