New Humanity Participation in the International Day of the Girl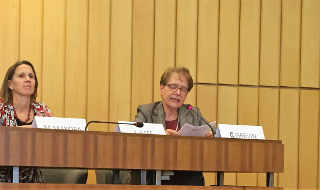 11 October 2018, Paris
"Priority to Education"

Last Thursday, October 11, about thirty NGOs among which New Humanity organized an event at UNESCO on the subject of education priority and how to reach the 4th of the 2030 Sustainable Development objectives, "Ensure inclusive and equitable quality education and promote lifelong learning opportunities for all".
Read the Manifest Presented on that occasion
Too many girls live in undignified situations: they suffer from lack of respect and their physical integrity is often violated.
Today more than 132 million girls do not have any access to school education.
To deal with this situation, the NGOs presented and promoted the Manifesto published above.
Mrs Chantal Grevin – main Representantive of New Humanity in Paris – offered her remarks at the conference.