New Humanity Proposes the "Fraternity Principle" as a Way for Dialogue Between Right to Education and New Technologies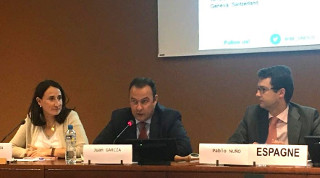 20 June 2018, Palais des Nations, Geneva
"Right to Education and New Technologies: a Necessary Dialogue"

Prof. Juan Garcia Gutierrez of National University of Distance Education (UNED) offered his remarks on behalf of New Humanity at the panel discussion organized by OIDEL NGO and the Smart Internet Users project.
"Where danger grows, safety also grows". During his speech, prof. Garcia quoted the German poet Hörlderlin, to underline how it is possible to adopt an approach that applies the "spirit of fraternity" contained in the first article of the Universal Declaration. With such approach, a potential risk presented by the introduction of new technologies in the Education field can become a new opportunity to fully enjoy all human rights, including the right to education.
The twofold approach proposed by prof. Garcia foresees, on the one hand, the need to base scientific and technological development on human rights and, on the other, the need for technologies to be at the service of, and promote human values, the "spirit of fraternity" and human solidarity. Internet and digital technologies do not per se constitute a human right, but they are an indispensable means to fulfil other human rights, including the right to education.
A good practice presented in this regard concerns the "Spanish life" project, organized by UNED and the University of Porto-Novo in Benin. It is an innovative virtual learning tool, developed in an educational context at a distance (and therefore based on internet and digital technologies), oriented to the promotion of human values, such as the civic engagement of students, through intercultural dialogue and development of global citizenship.
Knowledge and control. "Mankind has started a new phase of its history – concluded Prof. Garcia – with a growing and rapid development of science and technology, which offer utopian and dystopian possibilities at the same time. In order to fully benefit from them, the essential purpose of education and learning in our century should focus on the knowledge and control of opportunities and risks."
The event was moderated by dr. Pablo Nuño, First Secretary at Permanent Representation of Spain before the Office of UN in Geneva. Dr. Charo Sébada, Director of Communication for Smart Internet Users and Dr. Renato Opertti of the UNESCO International Education Office also intervened.