New Humanity's plan of action on unaccompanied children migrants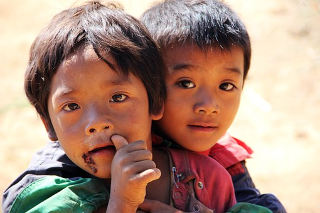 13 June 2017, Geneva
Joint declaration of the Catholic NGOs
New Humanity is one of the organizations co-signatories of the joint declaration of the Catholic Inspired NGOs in Geneva (CINGO) on unaccompanied minors, which was presented on June 15 on the occasion of the event on "Migration in Central America: migrants are not a danger, rather they are in danger", organized as a side event to the UN Human Rights Council. The proposed action plan, inspired by Pope Francis' words, formulated nine key points.
The title of the declaration "Rights, Grace for unaccompanied children through borders" refers to the Holy Father's words: "Let's open our hearts and make them sensitive to our neighbors' sufferings, especially when children are affected."
For that reason, New Humanity and the other organizations co-signatories of the declaration ask that the new global proposal on migration may include concrete and practical strategies and may implement the following action plan:
1) respond immediately, "needs-first" to unaccompanied children and other vulnerable migrants in vulnerable situations;
2) take forward paragraphs 51 and 52 of the New York Declaration to develop guidelines for their assistance and protection;
3) Fully implement the 2030 Agenda for Sustainable Development to strengthen the right to not migrate, so that migration is by choice, not by necessity;
4) Respect widely ratified international treaties containing "red-line" prohibitions against forced return of refugees, stateless persons, victims of torture and others to places where their human rights will be gravely violated;
5) Implement universal right of children to best interest determinations in all procedures affecting their rights;
6) end detention of children on the basis of their or their family members' migration status, with community-based alternatives that ensure the safety and welfare of the children first;
8) empower child protection authorities systematically to work with unaccompanied migrant children to trace and reconnect them with their families;
9) strengthen data on the full number of children migrating, and re-migrating; reinforce the consular network in transit and destination countries.