Northern Ireland: An agreement among three Schools, in order to rebuild fraternal relations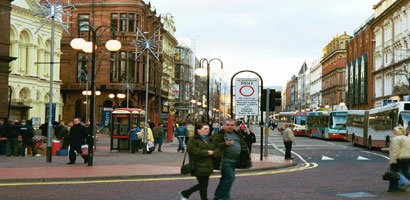 Ulster is still a critical area, where different ethnical and religious communities lives completely segregated from the other. There, two catholic schools and a reformed one, in 1993 created a "circle of schools", in order to promote fraternity among their students.
The project is still going on and brought during these 20 years lot's of unexpected results.
It is March 20th 1993: in Warrington, in the English Cheshire County, the IRA launches one of its bloodiest attacks: two bombs explode within minutes from each other downtown, wounding 56 persons and killing two kids, Jonathan Ball, three years old, and Tim Perry, 12 years old, who will die, after a five-day life-and-death struggle.
As it often happens, when sorrow destroys any certainty, only the essentials remain, the basics to hold on, in order to be able to start over again. Getting back on their feet little by little, people try to grasp the meaning of what happened, even if it seems impossible to understand.
This is what happened in this land, where the two communities are more or less segregated in different areas of the city, in different neighborhoods, schools, and recreation places.
Already before the bomb attack, two schools, one Catholic and one Protestant, on the two principals' initiative, tried to overcome the rigid division between Catholic and Protestant students, that usually attend separate schools.
The two institutes wanted to offer a concrete unity and peace testimony. What took place in Warrington left a deep mark, creating an outrage wave, but also the will to change things.
As years went by, indeed the involvement widened, and it was the turn of Belfast, capital city of Ulster, where two schools of the same suburb, one Protestant and one Catholic, started to build a mutual collaboration and brotherhood relationship. These two institutes were quickly joined by a third one from EIRE. In this way a "circle of schools" was born, where the so-called art of loving is proposed by means of the cube of love.
Kevin Mc Keague is the principal at St James Catholic School (Belfast): "I heard once from Chiara Lubich that of the three ideals of the French Revolution, brotherhood was the least developed … This is true here in Belfast as well, segregated as we are in two communities … Therefore I saw in my meeting with David (the principal at the Protestant School) the opportunity to build bridges and to bring in our communities an injection of love and brotherhood."
David McConkey is the principal at the Whitehouse Protestant School (Belfast): "I was deeply convinced that education plays a fundamental role in promoting peace, through a number of initiatives where students of different religious traditions can meet face to face. I was interested in finding a Catholic school, that could become a partner with mine, and when I met Kevin I saw in him the largest possible disposition, and the same aspirations I had ."
Declan O'Brien, principal at St Conleth School in the Republic of Ireland: "At first sight, I was so struck by the unity between the two schools of Northern Ireland, and by the true testimony of unity and brotherhood between Kevin and David, that I decided I wanted to share with them their project, introducing the cube of love in my school: in this way different schools could live together the art of loving.
In 2009 the Protestant school in Belfast was completely destroyed by an arson, a tragedy shared by the other two schools, which organized together a solidarity concert, whose title was "everybody for everybody". Students gave a contribution with their performances and artistic moments. A lot of parents from the three schools took part, together with the unionist mayor and the parish priest, both representatives of communities clearly divided, and who would normally not be invited on the same stage together. Thanking all the participants for their presence, the mayor said: "You all are giving a strong testimony in your community and in the country". A local newspaper wrote of kids that "show us a road map".
At a certain point the concrete possibility came out, that the school could no longer be rebuilt, also due to the lack of funds.
This difficulty was immediately shared among students and staff of the three schools and it was decided to organize a decent but strong protest in front of the Parliament Building in Belfast. Students, families, friends, colleagues all together around their principal, David McConkey, a clear public display of brotherhood. The Parliament Committee for Education, composed by members of different parties, was deeply struck by this proof of solidarity, and fixed an appointment with David McConkey for the following evening, in order to know better about the connection existing among the three schools. On the same day the reconstruction of the Protestant school was officially announced.
In these three friendly school it was introduced the art of loving, originally proposed by Chiara Lubich as an antidote to egocentrism, discrimination, bullying. The art of loving is the original collection of a number of genuinely christian ideas, that constitute an harmonic synthesis of the different requirements of love. At the same time it reminds the idea of exercise, continuous effort, in order to make it a living and active reality.
Therefore, in our schools we "build peace one brick at a time, in our classrooms, in the courtyard, and from here we go on in the streets, in the recreation park, and in our homes …": this is what the students from these institutes say. Don't forget that, as Declan O'Brien says, they mostly come from places where these values are completely neglected.
O'Brien explains us that the students put this art into practice both at school and at home, showing how this art helps them in being more tolerant, broadminded and open to others: "One of the students was sistematically made fun of by two others. This all took place, without the teachers even noticing it. There was the risk of revenge, and also of broadening the circle of hate. The proposal of putting the art of loving into practice broke this mechanism up, giving the students the courage to positively change things. The situation quickly improved".
As time went by, the communities linked to the three schools found themselves more and more united, also thanks to events like "Drums for peace", during which students read poems, sing and display art works, whose main theme is peace … besides drumming, of course! Originally these drums were used to announce opposing groups during political rallies, now they announce peace!
During "Drums for peace" a winning poem is regularly chosen.
In 2010 the choice fell on the one written by Aiden Doyle (eight years old) from Belfast. It was written after some clashes risked to plung Northern Ireland back into the dark years of civil war. In those days a policeman and two soldiers were killed. With the typical kids' naturlness Aiden writes: "That policeman who died was somebody's father…" and asked not to turn back in the peace process.
These simple and convincing words by Aiden made news and reached the news programme of the national channel giving a strong contribution to promotion and education for peace.
"This is not only an educational experience"- an observer tells- "but also a social one, that teaches how to overcome boundaries, not only between different communities, between North and South, but also barriers of religion, language and culture".
(Fount: umanitanuova.org)
© Photo Copyright Chris Yunker, all rights reserved