Querétaro: Two Young People of New Humanity attend the 6th Forum of NGOs in Partnership with UNESCO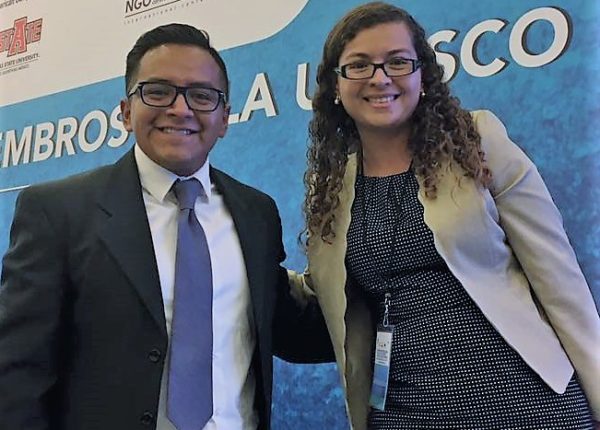 "Let us commit ourselves to living the Golden Rule"
Querétaro (Mexico), 3-4 November 2016
Nancy Avila and Abraham Arzola, two Youth for a United World – the youth branch of New Humanity – represented this NGO at the 6th international forum of NGOs in official partnership with UNESCO. The forum's theme was "From promotion to construction of peace with NGOs".
In front of representatives of 50 NGOs, the two Mexican youths presented the various activities that Youth for a United World spearheads worldwide for the promotion of peace.
In their speech, they presented a few best practices for peacebuilding that have already been achieved by Youth for a United World in various local undertakings, comprised in the United World Project. They also announced a large Festival of Universal Brotherhood – GenFest – that will take place next year in Manila, involving thousands of young people from all over the world.
"We finished our presentation", they recalled, "with what was dearest to us: as Youth for a United World, we commit ourselves to living the Golden Rule: 'Do unto others that which you would have done to you; do not do to others what you would not want to have done to you."
"Afterwards, they continued, "various people in attendance approached us to learn more about New Humanity, having been struck above all by our conviction that what we want to build, and and of which we are already active witnesses – A United World and Universal Brotherhood – is possible."
"Although we each were representing different projects", concluded Nancy and Abraham, "we found ourselves bound together by one single objective: the building of PEACE. Many conferences and round tables have been held on this topic, where the speakers have given their ideas and projects about building peace concretely."
Photo Gallery
{gallery}Forum New Humanity Mexico{/gallery}