Rome: Dr Grevin Intervene during the Congress "The Environment and Law: Responsibility and Participation"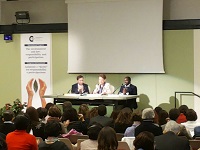 Mrs Chantal Grevin – the main Representative of New Humanity in Paris – intervened – as an expert of international organisations – during the International Congress: "The Environment and Law: Responsibility and Participation".
This event had been organised by the Community and Law Association (partner of New Humanity) at the Mariapoli Center of Castelgandolfo (13-15 November 2015).
Programm of the Event
Intervention de M.me Grevin au Congres de l'Association Communion et Droit
"The Environment, the water of rivers and oceans, natural resources,… we can believe that in the future all of them will be considered as a common good and the humanity will have full property rights over them and will have to commonly take care of them. We should work together in order to achieve this goal."
Mrs Grevin concluded its intervention with this worlds, observing that the UNESCO already recognised the status of "World heritage" for the Underwater Cultural Heritage of the Oceans (2001) and for the the Human Genome (2005).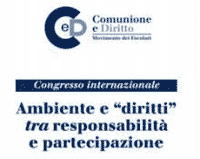 During her intervention Mrs Grevin recapitulated the work managed by New Humanity in this area, collaborating with the UNESCO and its partner NGOs. She summarized the role played by New Humanity during many important international conferences centered on the environmental issues. During this events, New Humanity presented some of the several good practices which the members of the Focolare Movement daily promotes all over the word in this field.
In 2013, for example, the conference "Water Accession for all in Africa: a fundamental Human Right", has been the occasion to present the experience of Mr Patrick Moulo. He is responsible for the water supply in the city of Berberati (Central Africa Republic). since 2005. Considering the huge infrastructural and economic problems affecting the water supply in Berberati, he sensibilised the inhabitants of his city, explaining how water is a fundamental common good. Finally he was able in a few months to collect enough money to double the daily water production in the city of Berberati.
Afterwards, Mrs Grevin explained the action of New Humanity, in order to achieve a binding State engagement in the environmental area during the Forum of the UNESCO's official NGO partners in 2014 (see also Abidjan: Water accession is at the core of the meeting of the UNESCO's Partner NGOs Forum). New Humanity wish to achieve important and concrete results also the next month of December, in occasion  of the COP21 event in Paris (see also Paris: New Humanity Participated into the NGO Action Day on Climate Change, Preparing the COP21)
 As it was indeed underlined by Mrs Grevin: "it is more and more necessary to install a normative system at the international level and based on the human rights, instead of a simple chart based in the National States".