The "Committed in Love" Workshop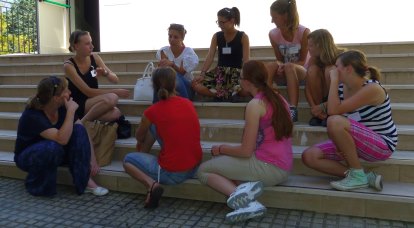 Off to Concrete and Fraternal Commitment
The "Committed in Love" Workshop has taken place in the Italian city of Benevento. The event took place from 4th to 8th August and has seen the participation od about 200 young people, coming from six countries. The workshop aims to convince the young participants that a new world is still possible to be, despite the conflicts and mistrust in a better future. As a matter of fact they have been offered the instruments to act as responsible and active citizens.
Therefore, the training to active citizenship has been the yard core, but there have been also practical activities. In collaboration with the local "Caritas", all young people, divided in groups of work, have arranged breackfast for the local homless people and they have animated a didactic farm, in addition to the regular maintenance and service tasks for the structure which they were guests in.
At the end of the five days spent together, the young participants have questioned how to plan the daily commitment for their own local reality. There have been lots of proposals: periodical telemathic connections, more life-sharing moments, working in the "existential peripheries", helping the one's territory with environmental initiatives, the commitment for world peace and a lot more.
Finally, the 200 young participants left, being convinced that the responsability for future commitment is entrusted to everyone's creativity and the joy of not feeling lonely in the fight for a better world and a future with more hope.