The Right to International Solidarity, as NH priority at the Council of Human Rights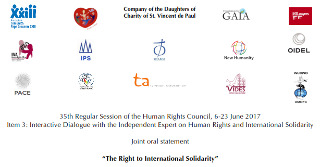 6 – 23 June 2017, Geneva
35th Regular Session of the UN Council of Human Rights
A presentation on behalf of New Humanity and other Catholic Inspired NGOs highlights the need for Right to international solidarity.
Download the complete presentation
"The Right to international solidarity represents a new tool that enables us to face the complexity of many global issues". These were the opening remarks offered by Dr. Maria Mercedes Rossi of the Pope John XXIII Community, on behalf of the Forum of the Catholic Inspired NGOs in Geneva (CINGO), during the 35th session of the Council of Human Rights.
Dr. Rossi reminded the audience that such right may indeed help to "preserve the universality of human rights and enhance the development of all other human rights."
Following a report given by Dr. Virginia Dandan, Independent Expert for Human Rights and International Solidarity, Dr. Rossi's presentation offered New Humanity and the other 14 NGOs the opportunity to express their support for her work and especially her commitment to promote a Declaration for the Right to international solidarity.
New Humanity has very much at heart the approval of such Right, particularly since it is directly rooted in the principle of fraternity of the humankind, which constitutes the inspiring pillar of NH and has been recognized by the United Nations as such since NH's foundation.
As Dr. Rossi very well expressed at the end of her remark, "we are convinced that the development of international solidarity from a legal standpoint, as a right, is the only way we can make it possible for that principle to become effective and operational, in a special way for the benefit of the most vulnerable ones."