The 'New Humanity' Movement youth members learn about Human Rights at the Palace of Nations in Geneva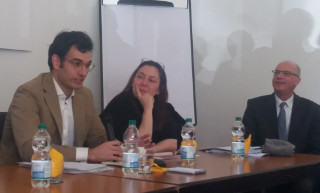 9 April 2019, Palace of Nations (Geneva)
On April 9, 2019 the New Humanity delegation in Geneva organized a Conference, together with the other Catholic Inspired NGOs, to present to a group of fifty youngsters of New Humanity from about 20 countries around the world the International System of Human Rights and the role of the Holy See and the Catholic Inspired NGOs at the United Nations in Geneva.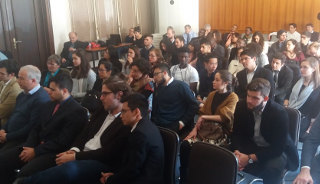 As in the previous years, the event offered the opportunity to show the commitment and action of New Humanity, as well as of the other Catholic-inspired NGOs and the Holy See at the Palais des Nations in Geneva, to young people of the focolare Movement (from which New Humanity draws its principles and inspiration) who are at the International Center of Montet, Switzerland, for a period of formation and study.
The group of youth visited the Palais des Nations and then actively participated to the special conference organized for them. Jorge M. Dias Ferreira, main representative of New Humanity in Geneva and moderator of the event, welcomed them personally.
The conference also saw the participation of Marco Desalvo, President of New Humanity, and of representatives from the Holy See and other Catholic-inspired NGOs at the Human Right Council at the UN in Geneva.

Events from the previous years:
2015 – Geneva: The Youngsters of N.H. Explore the System of Human Rights and the Role at the UN of the Catholic Inspired NGOs
2014 – Geneva: Human Rights and Social Doctrine at the United Nations Palace
2012 – Geneva: Extracts from the conference: "The Role of Non-governmental Organizations in Development"
2011 – Geneva: Young students from N. H. examine the "International System of Human Right"