"Together for Europe": contributions from Christian movements and communities to the Europe of today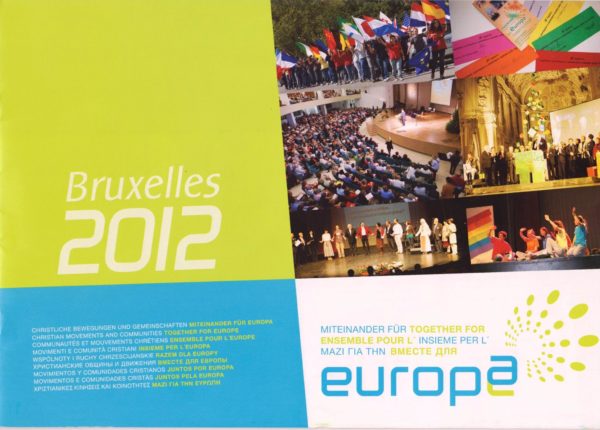 For Europe Day, "Together for Europe" brought to Brussels the "Contributions of Christian movements and communities to today's Europe". 300 movements were represented, with 130 cities involved. At the same time, Teens4Unity promoted Run4Unity, their worldwide relay race. New Humanity was involved in the preparation of both events.
What is "Together for Europe?" In her introductory speech, at the Square Meeting Centre in Brussels, it was Mrs. Maria Voce, president of the Focolare movement who answered this question. She outlined the story of the project to date and highlighted those contributions it can offer contemporary Europe.
Mr. Romano Prodi, former European Commission president, echoed her ideas on the "Contribution of Christian movements and communities to the Europe of today."
After a moment of reflection with several European university students, the program shifted to the issues facing European today: the integration of the socially-excluded and refugees, the family and, with a speech made by Luigino Bruni (professor of Political Economy and Coordinator of the International Economy of Communion Commission), also the economy.
Other contributions concerned commitment and initiatives of active citizenship in the preservation of the environment and of peace and human life, with a vision of Europe's role in the other continents.
A second part of the program, with an Internet link-up with 130 European cities where other programs connected with "Together for Europe" were taking place, was opened by Mr. Andrea Riccardi, founder of the Community of Sant'Egidio and Italian Government Minister for International Cooperation and Integration, with a speech on "Europe: beyond the crisis, hope" and the presentation of "Teenagers and their creative involvement in the vision for Europe" through Run4Unity, the worldwide relay race promoted by Teens4Unity which was taking place at the same time on 5 continents.
The video-message from the President of the European Council, Mr. Herman Van Rompuy set the stage for the conclusion of the program presented by Mr. Thomas Römer, head of YMCA Munich, and entitled "Laying solid foundations",.
In closing, the "Brussels 2012 Manifesto", now also available online, was presented.
"Together for Europe" was held with the patronage of Mrs.Irina Bokova, Director General of UNESCO; Mr.José Manuel Barroso, President of the European Commission and Mr. Thorbjørn Jagland, General Secretary of the European Council. A medal of recognition was conferred upon the event by the President of the Italian Republic, Mr. Giorgio Napolitano.
Mr.Francesco Pizzorno, president of New Humanity and Mrs. Antonella Bianco, vice president of the same NGO and member of the preparatory commission of this event were also in attendance.
Go to the Together for Europe website
Go to the Run4Unity website