U.N. INTERNATIONAL YOUTH DAY, August 12, 2021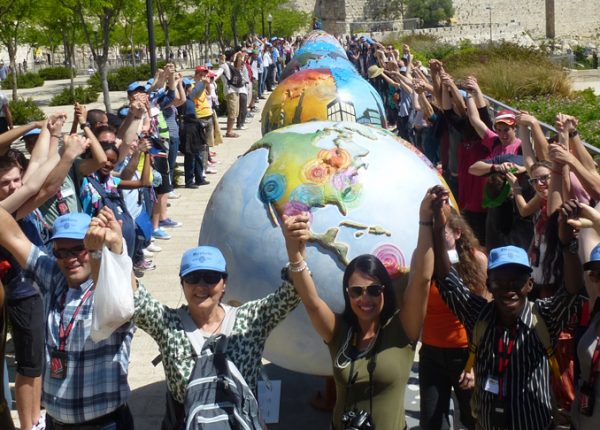 New Humanity International NGO, especially its youth sector, is united with the whole world in celebrating August 12th International Youth Day annual observance.
With the theme, "Transforming Food Systems: Youth Innovation for Human and Planetary Health", we find the direction we have set and the efforts we have poured this year in the same breath as today's invitation. A few months ago, we launched #DareToCare: People, Planet, and Our Ecological Conversion, a global campaign that appeals to recognize and respond to the cry of our ailing planet. With the recent extreme weather conditions felt across the globe, there is no denying that we are under a worsening climate crisis, one that cannot be detached from other crises that we are experiencing today including poverty as well as in the area of health and food quality and supply, among others. Acknowledging that everything is interrelated, we have understood that care for the earth and care for others are inseparable. We cannot remain aloof anymore nor can we set it aside. This is not the time to be bystanders. This is the time to stand together and roll up our sleeves because in spite of the numerous differences we may have, we have one common home and we have a shared responsibility to take care of it.
We commend the choice of the theme for this year's celebration geared towards what is close to the heart of many young people and the reality we face at present. While this occasion reminds us that young people – ever passionate, creative, and dauntless – can lead the way to a better world, one generation cannot do it all alone. We must not be afraid to tap collaborators and forge partnerships so that our local initiatives will have a wider and lasting, global impact. After all, we are all children of the earth and the concern of the earth is the concern of everyone, no exceptions.
As a partner of the Food and Agriculture Organization (FAO) of the United Nations and as an accredited observer of the United Nations Environmental Programme, we remain steadfast in our commitment to ensure human and planetary well-being and we are willing to exhaust all possible means on our part towards this cause. Driven by care, we invite everyone, especially the young people, to take a step back by reviewing one's lifestyle (including one's consumption and activity) and its impact on our planet and make a move forward by organizing and providing aid for projects such as those under the United World Project held in different parts of the world, be involved or amplify support in policy-making, and calling private sector to shift its production and way of doing business to those sympathetic to the planet.
A rise in global temperature of even 2 degrees is more than enough to threaten food and water security, the economy, and other aspects of human life. We call upon governments to vigorously uphold and stay true to their commitment of effectively reducing greenhouse gas emissions as stated in the Paris Agreement and act on it with great urgency. Likewise, we appeal that all citizens find themselves contributing and cooperating in favor of this endeavor. May all of us be strenuous protagonists in our pursuit of a more sustainable world for the sake of the common good, of our common home.
Gio Francisco
United World Ambassador, Philippines