Young people from New Humanity learn on the Right to Development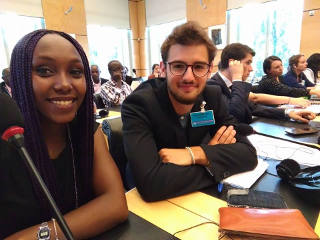 7-11 August 2017, Geneva
14th Summer University Seminar on Human Rights
Two young people from New Humanity were invited also this year to take part in the summer seminar on Human Rights sponsored by the Henry Dunant University College. The topics of the 2017 seminar were the definition of universality and identifying objectives for a sustainable development, with a particular focus on the Right to development and the current economy.
Giacomo Fabris, a student at the University of Padua has no doubts: "It was a very enriching experience; I arrived there with no particular expectation: the classes were very interesting and gave me a lot of great topics to reflect on. It was one of those hand-on experiences that make an impact on one's points of view and help us change our perspective on what surrounds us".
Maria Chiara Humura, an International Relations student from Ruanda continues: "it was also very interesting to meet and interact with people who were very different from us, because of their culture or just simply their professional environment: most of our classmates in fact came from African countries and were justice officials by profession. One more reason for defining this experience as absolutely positive".
The two New Humanity representatives were selected together with other 29 participants from 12 European and African countries among more than 250 candidates. They received a general overview on the international system concerning human right protection, and attended interactive workgroups and thematic workshops.
The participants also contributed to the drafting of the first report of the Observatory for the economic, social and cultural rights of the Henry Dunant University College, which was then presented at the United Nations on September 25.
The summer university seminar coincided with the session of the UN Committee on the Elimination of Racial Discrimination (CERD), attended as well by our participants.