New Humanity brings up the challenge of climate change at the 41st Human Rights Council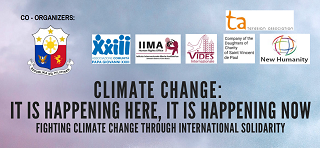 26 June 2019, Palace of Nations, Geneva
Conference on "Climate Change: It is happening here, it is happening now"
As a contribution to the 41st ordinary session of the United Nations Human Rights Council, New Humanity co-organized the conference "Climate Change: It's happening here, It's happening now" together with the Permanent Representation of the Philippines, the NGO APG23 and other partner organizations of the Forum of Catholic-inspired NGOs in Geneva.
Dr. Jorge M. Dias Ferreira, main representative of New Humanity in Geneva, contributed to the debate with a reflection inspired to Pope Francis's encyclical "Laudatio Si". It underlined how the deterioration of the environmental heritage is deeply connected to the human and ethical heritage deterioration.
Dr. Ferreira proposed the creation of a regulatory system that effectively respects human life and the living environment, while at the same time setting clear limits aimed at ensuring the protection of eco-systems before new technological and economic models of power may eliminate not only a sound environmental and social policy, but also freedom and justice for all.