Europe: the challenge of unity in diversity. Second round of the DialogUE project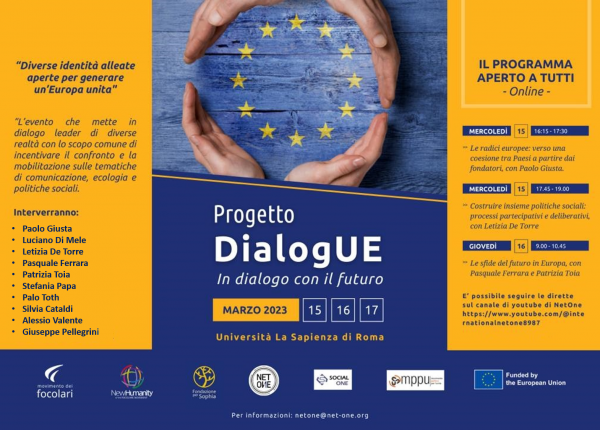 Following a first round of the DialogUE project sponsored by New Humanity, which began with eight online events on Feb. 18, 2023 organized by Foundation for Sophia, DialogUE will continue with a three-day online and in-person event March 15-17, 2023 in Rome at La Sapienza University. The meeting is coordinated by NetOne together with Eco-One, Social-One, and the Politics for Unity Movement.
It will be an opportunity for the partner associations to receive specific training in three topics of interest to the European Union for this project: ecological sustainability, policies to mitigate social inequalities, and disinformation.
The goal of the project is precisely to connect and train I leaders of projects acting in the world of dialogue. That for example between different Christian churches, between Catholics and Muslims, between Catholics and non-denominational citizens or between Western and Eastern Europe.
The meeting, which will begin during the Ides of March will begin by looking back and remembering the roots, values and pillars on which Europe was born, The program is open to all in online format in the following sections:
Wednesday, March 15 4:15-5:30 p.m.-European roots: toward cohesion among countries starting with the founders-with Paolo Giusta
Wednesday 5:45-7:00 p.m.: DialogUE to make it equal-with Letizia De Torre
Thursday 16 9.00-10.45 am: The challenges of the future in Europe – with Pasquale Ferrara and Patrizia Toia