Geneva: Dr. Ferreira about the Role of the Catholic Church at the UN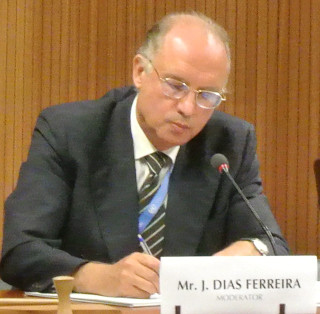 Intervention During the Meeting of the Youth Responsibles of IIMGA NGO

Geneva, 18 June 2016, 14h30′ – 16h30′
Jorge M. Dias Ferreira, main representative of New Humanity in Geneva, reflected about the role of the Catholic Church at the United Nations in Geneva with the Youth Responsibles of the salesian IIMGA NGO. It has been the occasion to speak also about his persona experience to the 10 participants from Mexico, Costa Rica, Spain, Philippines and Italy.
"It was a totally positive meeting – reported Dr. Ferreira at the end of this meeting – I was really impressed by the quality of their listening, by their attentive participation and by their engagement. They are indeed daily facing so complicate concrete situations in their own Countries, mainly those from Latin America.
Dr. Ferreira delivered an intervention of around one hours and a second hours has been dedicated to the dialogue and questions from the participants. During his speech, the representative of New Humanity presented: the impotance of the work of St. Bosco for the education of the young people (charism and evolution during the history); the UN and its agencies (origins, structure, topics, challenges and goals); the Palais des Nations in Geneva (genevan hostorical context); the Holy See and its diplomacy (history and present situation); the catholic inspired NGOs (sense, engagement and goals); relationships among the NGOs delegations and its main actors with the main member States.
The title of the meeting was "Responsible towards the promotion of the Human Rights – the presence of the Catholic Church at the United Nations". It has been held at the Human Rights Office of "Vides y IIMA" in Geneva.