Let's Bridge – Youth Initiatives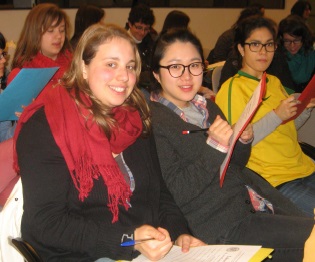 Development, interculture, citizenship
8 interactive workshops, 450 European youngsters, 4 high schools from the North, Centre and South of Italy, 20 trainers,… These are just some of the numbers relating to the initiatives promoted by the  AMU ngo on  questions of development, interculture and  active citizenship, funded courtesy of the Let's Bridge Project.
From 2012 to 2014 the NGO held numerous workshops  to demonstrate that "solidarity is not a feeling, but a firm decision to commit oneself for the common good". The activities, all based on non-formal training, involved groups of youngsters and aspiring European trainers, as well as groups of pupils in a number of Italian schools.

International Workshops (Italian)

Workshops with the kids (Italian)
Leading players in our land


"Leading players in our land" is the title of the meeting promoted by New Humanity held in Caserta (Campania) from 29th  July to 2nd  August 2013 which involved around 1,000 youngsters from all over  Italy. The event saw alternating moments of work, debate, training and opening-up to the city. There were 3 main topics: Legality and a place of welcome, legality and the environment, legality and work.
The activity is  part of the Let's Bridge Project, co-funded by the Youth in Action Programme of the European Union.
Read more on the activities site

Watch the video on youtube