Let's Bridge – The Project in brief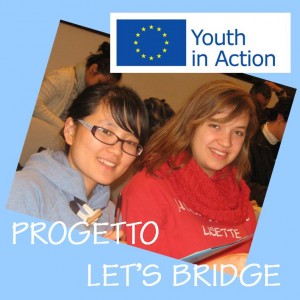 The Project in Brief
The project Let's Bridge, co-funded by the European Union as part of the Youth in ActionProgramme, involves nearly 2,000 youngsters, 500 of whom come from disavantaged backgrounds.
Its main Objectives are:
-To motivate, empower and qualify young people through non-formal, cross-cultural learning towards the acquisition of key competencies which are crucial for individual development, social inclusion and active citizenship and thereby to enhance their personal and professional development prospects;
-To familiarise them with common European values, esp. tolerance, mutual respect and peace helping to comprehend and experience the assets of diversity and multiculturalism;
-To empower them to better integrate universal values (e.g. dignity, freedom, equality and solidarity) in their individual lives and contexts contributing to sane human development and social cohesion in European societies;
-To offer young people with new opportunities participation and meaningful volunteering positively contributing to human development and social cohesion. To foster capacity building in partner organisations with the view to improve quality and scope of offers which better meet the special needs of young people and esp. less favoured groups;
– To establish a sustainable partner network at European level which will constitute a solid basis for future cooperation between grass roots CSOs in the youth sector and enable structured exchange, transfer and sharing of good practice as well as innovation.
The project is promoted by a network of 9 Associations from 8 member states  of the EU (DE, IT, PT, HU, SK, BE, LT, RO) and collaborators from 21 European countries (BG, CZ, DK, IR, GB, ES, FR, LV, LU, HU, MT, NL, AT, PL, SI, SE, UK, NO, CH, HR, TR) active in the field of informal education for youngsters.
Informal and intra-cultural teaching is  the cornerstone of the enterprise, built on a broad range of activities and initiatives at local, regional, national and transnational levels. The project consists of 41 national youth initiatives, 5 cross-border meetings, 5 cross-border training sessions with voluntary staff, 5  group management meetings.
Priorities
– Respect and tolerance for people from other cultures, social milieus, countries and religions;
– Intercultural dialogue an common European values and traditions;
– Respect for fundamental rights, democracy and pluralism;
– Sports and culture for active citizenship and the acquisition of key competencies and integration;
– Participation and leadership of youth involving disadvantaged groups;
– Prevention and combat against intolerance, stereotypes, of racism and any forms of violence;
– Environment protection and sustainability;
– Solidarity with the poorest people in the world esp. in developing countries;
– Democracy, peace and social cohesion;
– New approaches to Corporate Social Responsibility (CSR)

Watch the Videospot on Youtube


  Summary of "Face2Faith in Europe"


Programme of the EC European Summer School


AMU's International Workshops (Italian)


AMU's Workshops with the kids (Italian)


 Summary of "Movimento Juventude Nova"'s initiatives (Italian)