Chicago: Conference "Expo 2013 – Building a Renewed Humanity"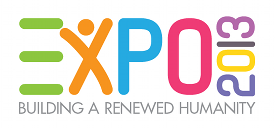 Division. Greed. Alienation. Apathy. Ready for a change?
That was the slogan of the Expo 2013, organized by the New Humanity Movement at the Sheraton O'Hare Airport Hotel, Chicago (April 27-28).
This event was a multidisciplinary laboratory, in order to promote a positive change, inspired by the values of solidarity, generosity and fraternity.