Water source of life and development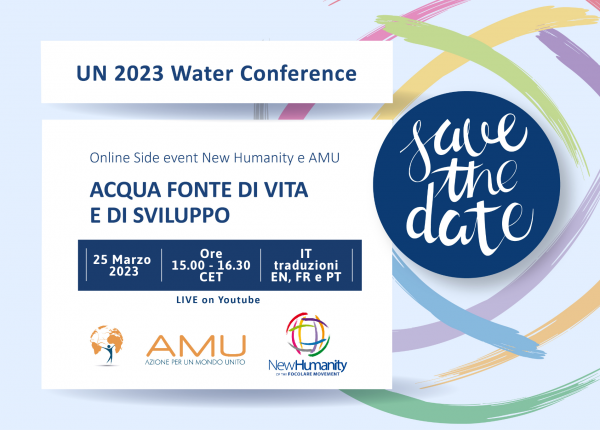 Quando:
25.03.2023@15:00–16:30
2023-03-25T15:00:00+01:00
2023-03-25T16:30:00+01:00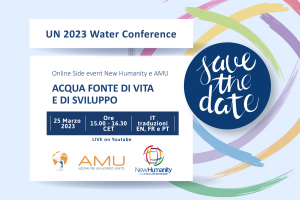 Water source of life and development
UN 2023 Water Conference – Side event
     New Humanity and AMU on the occasion of the UN 2023 Water Conference "Uniting the World for Water", have decided to organize a side event with the title "Water: source of life and development". 
The online event will take place on March 25th 2023 from 10.00 am (EST) | 15.00 (CET) to 11.30 am (EST) | 16.30 (CET) and the it will be held in Italian with simultaneous translation. 
PROGRAM
10.00 EST –> 10.40 EST | 15.00 CET -> 15.40 CET
Opening | Apertura
Moderator – Maddalena Maltese, journalist. New Humanity NGO representative (New York)
Sharing and celebrating the value of water for life | Condividere e celebrare il valore dell'acqua per la vita
Compartiendo y celebrando el valor del agua para la vida. Comunidad Omaguaca – Hornaditas, Humahuaca (Argentina)
Why water is a source of life and development | Perché l'acqua è fonte di vita e di sviluppo
Emanuela Castellano – Africa Projects Coordinator (AMU)
Harerimana Zéphérine – Testimony (water project beneficiary)
Jerome Nibaruta – Amazi Meza Project Coordinator – CASOBU (Burundi)
Telma Rocha – Program Director, Avina Foundation (Brazil)
10.40 EST –> 11.00 EST | 15.40 CET -> 16.00 CET 
The human right to drinking water and water protection. The commitment of the Church  | Il diritto umano all'acqua potabile e la protezione dell'acqua. L'impegno della Chiesa
Tebaldo Vinciguerra – Dicastery for Promoting Integral Human Development (Holy See)
Laudato si' and the commitment of faiths to protect water | La Laudato si' e l'impegno delle fedi a tutela dell'acqua
Alessio Valente – Professor of Geology at the University of Sannio and New Humanity NGO representative at FAO (Italy)
11.00 EST –> 11.15 EST |  16.00 CET -> 16.15 CET
Interactive moment – Not an event but a commitment | Non un evento ma un impegno
11.15 EST –> 11.30 EST | 16.15 CET -> 16.30 CET
Closing remarks | Chiusura
Marco Desalvo – President of New Humanity NGO (Jerusalem)
Context
The UN 2023 Water Conference and the Water Action Agenda will unite the world for water. The key building blocks of the Water Action Agenda are: commitment to action, sustained and scalable implementation, follow-up and review processes. These blocks will enable replication and scaling up of what works and bring successful solutions to global scale.  
Side events are a great opportunity to galvanize commitments during the Conference. 
Our side event has submitted a commitment to the Water Action 
     The ultimate change to which the intervention aims is that the families of Mugina and Rugombo (Cibitoke department, Burundi) can live a healthy life. 
For its addition we will work primarily on the construction of 54.421 km of water infrastructure connected to the public network and at the same time on training the population on hygiene, prevention and management of the common good, on the construction of 100 pilot ecological latrines, on the launch of 12 health insurance mutual groups to facilitate access to medical care for all. 
Our intervention in Burundi for the Water Action Agenda is aimed at two local communities, and also involves 13,775 children and youths in 7 schools. Access to drinking water for them does not only concern the improvement of hygienic and health conditions but the right to study and education itself, which will now be better protected. 
This and other water access actions by AMU start from initiatives of local indigenous communities and minorities, with which the related projects have been elaborated. The realization of these projects therefore also constitutes a process of empowerment of these minorities and opens the doors to a greater access to their rights, in dialogue with the local authorities and the majority population. 
Partners
AMU — Azione per un Mondo Unito (action for a united world), is an NGO established in 1986 with the goal of building a united world through projects of cooperation in many parts of the world and education to global citizenship. It operates globally with special attention to particularly vulnerable places. AMU aims at creating sustainable activities in cooperation with local communities; such activities are the first step to generate real growth in full respect of social, cultural and economic local realities.
Avina Foundation, a global organization rooted in the global South, impacts the world through collaborative efforts that foster human dignity and care for the planet. Three critical issues are the pillars of Avina's work: climate action, democratic innovation, just and regenerative economy. Access to water is one of the main programs Avina is advocating for in South America. With a team made up of 150 professional staff and 8,000 allies across the world, Fundación Avina carries out programs in 45 countries across Latin America, the Caribbean, North America, Africa, and Asia, all focused on impacting the global South.